Commercial Glass & Restroom Compartments
Miller Glass  is experienced in all aspects of Commercial Glass. Whether it is new construction, existing building renovations or damage repair, our goal is to provide you with a total glass solution.
In addition to business owners, we work closely with Property Management Companies, Architects, Builders and General Contractors.
Miller Glass provides professional and quality installation of commercial glass storefronts, heavy glass storefront doors, skylights and replacement storefront hardware. We specialize in tenant finish and re-configuring existing storefronts (such as adding a new door).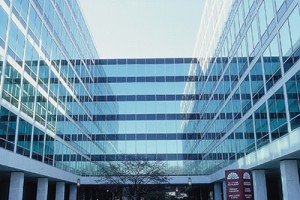 High performance glass, whether it is Low-E or solar tint, not only provides energy efficiency and utility savings in the long run, but as a result of the improved efficiency, can save the customer money initially by the ability to down size the HVAC system. In addition, the customer will also receive financial benefit from the improved human comfort resulting in improved employee productivity. Ultraviolet fading can also be controlled with high performance glass.
Solar tinted glass can be added to the exterior to help control heat gain and sun glare. Laminated glass can be incorporated to help with sound insulation and for security purposes. Of course any of our units can incorporate tempered safety glass.
Restroom Compartments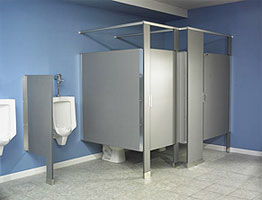 Miller Glass offers several different commercial restroom partitions to choose from. Such as: metal, plastic laminate (architectural grade), solid plastic, stainless steel or phenolic.

Our line of ADA approved commercial toilet partitions add privacy to all public bathrooms including those in stadiums, schools, restaurants, pools, country clubs, and malls. We offer in corner, between walls, free standing, and alcove bathroom stalls that are great for all retrofit, remodeling, and new construction projects.